DREAM HOME: THREE BOYS, TWO DOGS AND ONE BEAUTIFUL HOME
With three young boys – Aaron, Andrew and Ayden, and two very old dogs, Yuki and Jojo, Jennifer and Charles have their hands full. It's not surprising that they wanted a home that was easy to clean and maintain, with a light and airy feel, wooden accents and ample storage space. Thankfully, Quirky Haus delivered all that and more. Hear their renovation story with a happy ending!
Project Snapshot
Name(s) of Homeowner(s): Charles Ng and Jennifer Seah
House Type: 5-room BTO HDB Flat
Size of Home: 113 sq m
Cost of Renovation: $68,000
Duration of Renovation: 3 months
Interior Design Firm: Quirky Haus Pte Ltd
Name(s) of Designer(s): Kachee Chin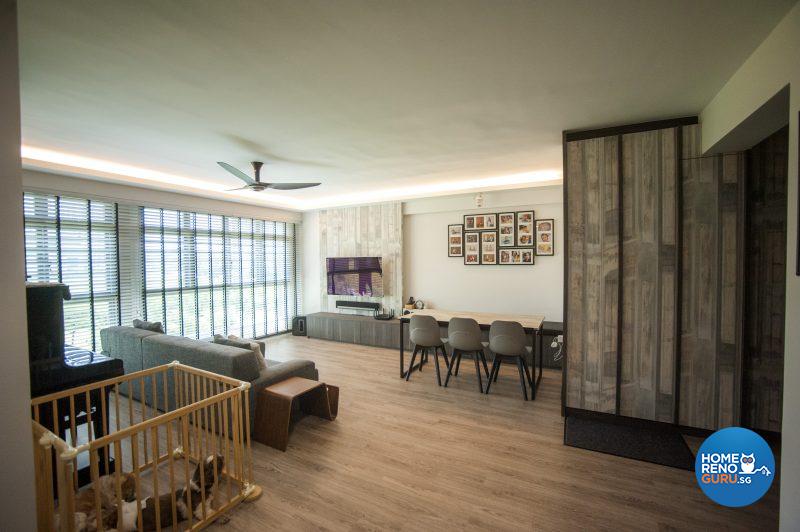 The clutter-free living area is ideal for entertaining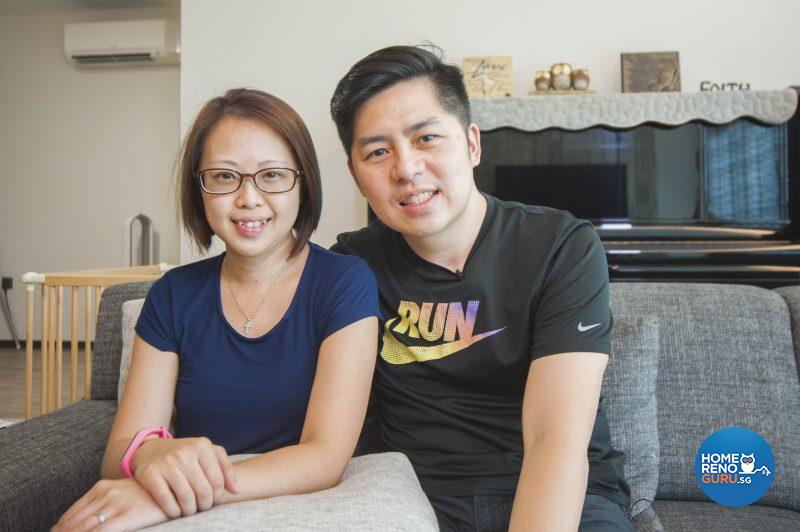 Happy homeowners, Jennifer and Charles
HomeRenoGuru: How and why did you choose Quirky Haus to renovate your home?
Charles: As soon as I entered Quirky Haus, I spoke with the interior designer Kachee. Immediately I knew she's the one I wanted to engage because she could really relate to exactly what I wanted in the design, and how I wanted my dream home to be like.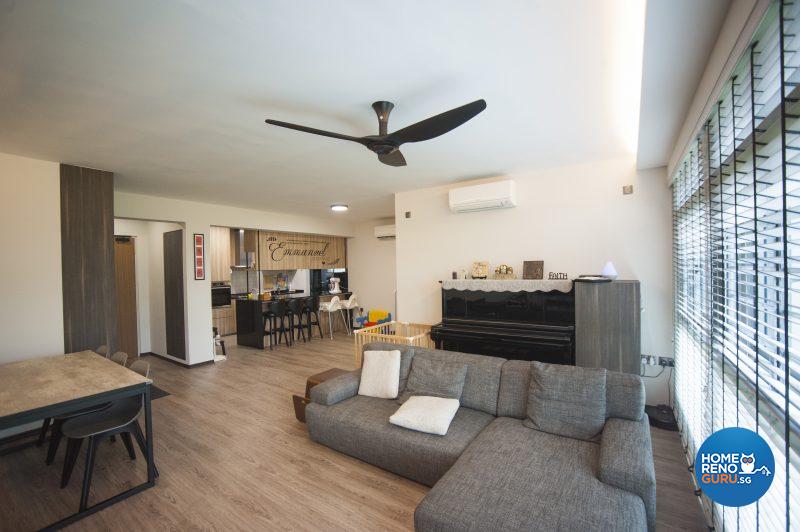 Wooden accents add warmth to the predominantly white colour scheme
HomeRenoGuru: How clear was your brief to your designer?
Jennifer: When we first sat down to discuss with Kachee what we wanted for this home, we were very specific. We wanted some light woody feel in the house, and a place that's easy to clean and maintain.
The kitchen counter facilitates family interaction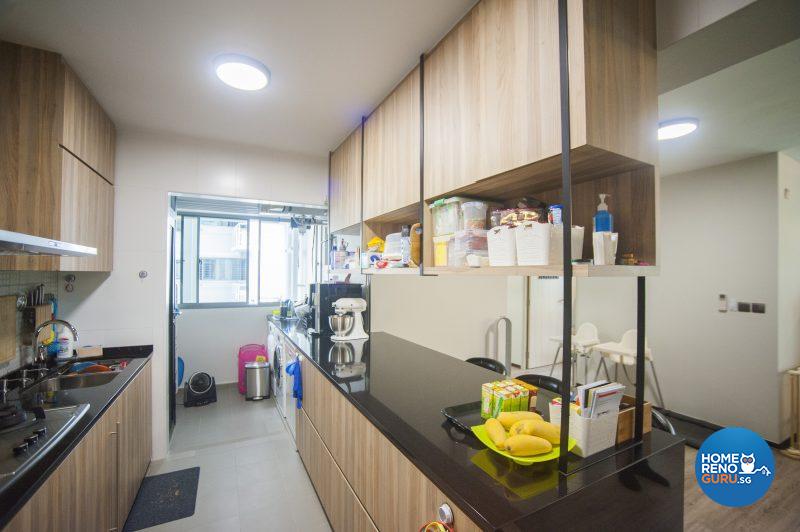 Jennifer loves that she can cook and keep an eye on her children, thanks to the open concept kitchen
HomeRenoGuru: What do you love most about your home?
Jennifer: One of my favourite rooms in our house is the kitchen. I love the kitchen because of the plentiful storage space. The open concept is also something that I love because it allows the kids and my family to have a quick breakfast at the island area. It allows me to see my kids while I'm cooking in the kitchen.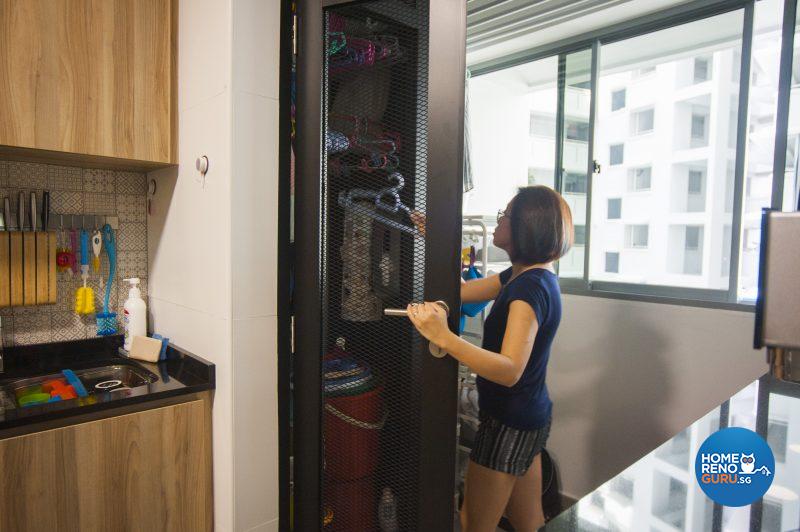 The utility closet does double duty – concealing pipes and accommodating cleaning utensils
Charles: Another part in the kitchen that I especially like is the utility closet that we have created because it actually serves two purposes – one is for the closet, and the other one is to conceal the ugly pipes.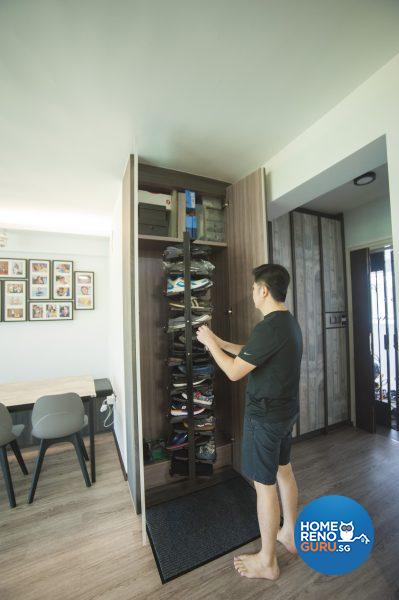 This amazing shoe rack is home to up to 60 pairs of shoes!
Another favourite place that I like about the home is the shoe cabinet itself. Because we have a family of five, you can imagine the number of shoes that we have. So actually I came across this shoe rack design, which enables us to store up to 60 pairs of shoes in a small space.
We're very proud of this nice and simple living area. We've always wanted a home where we can host friends and guests, and I think our ID has done a good job in creating this living space for us. We have plenty of storage space to keep all the knick-knacks behind closed doors.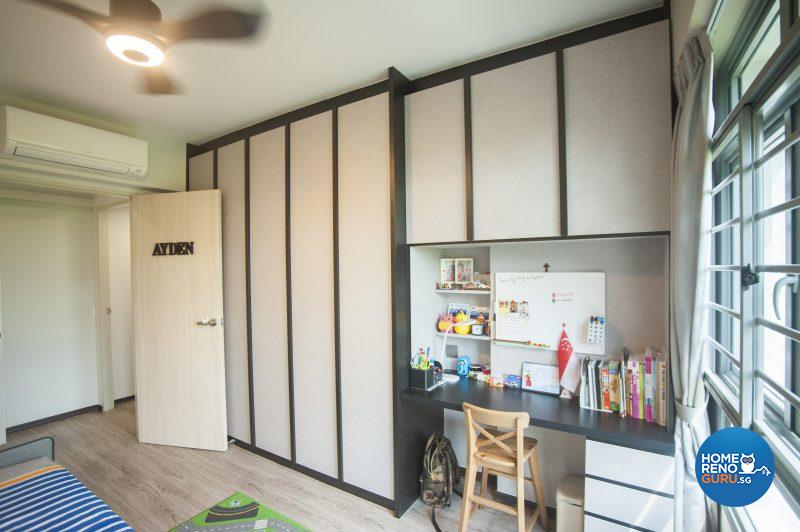 The oldest boy's bedroom was designed in such a way so that it will not be quickly outgrown
Jennifer: For our eldest son Ayden, he's eight this year, so we wanted him to have a room that he can grow up in. We decided to get the interior designer to do up a full-fledged wardrobe that incorporates his study table.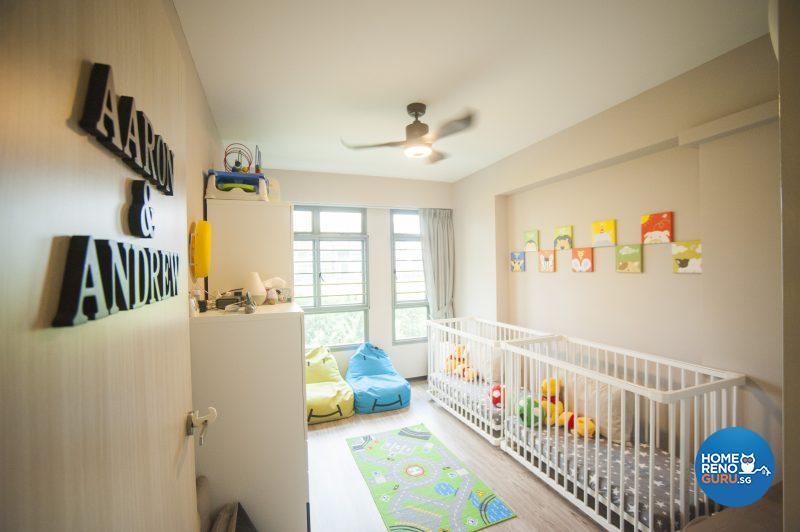 The younger boys' room, complete with cheerful animal-themed artwork
For our master bedroom, of course we needed ample wardrobe space. But with the room being a little smaller, our designer did a great job by choosing a veneer on the cabinet that has a fabric texture, making the room look soft and cosy.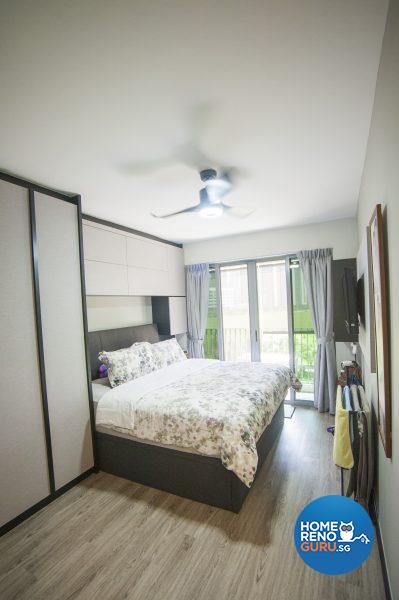 The master bedroom features floor-to-ceiling built-in closets and wood-lookalike flooring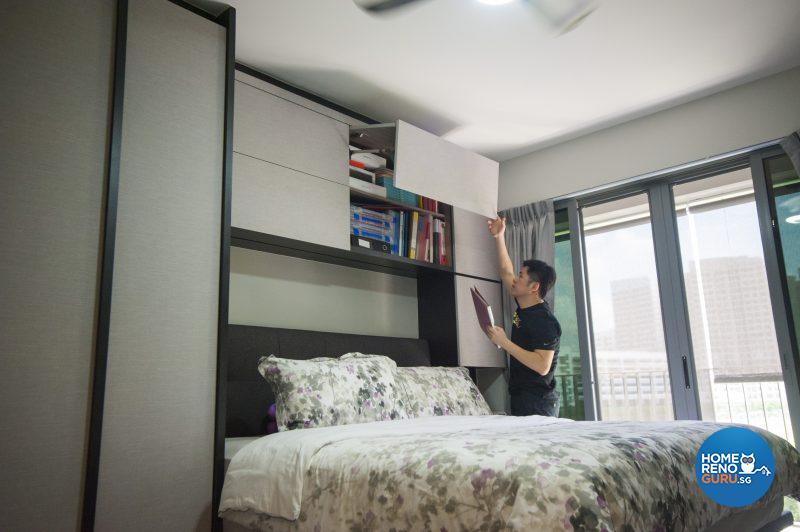 Charles lifts the hatch on the overhead storage in the master bedroom
HomeRenoGuru: Do you have any advice to share with homeowners embarking on a renovation?
Charles: My advice to people who want to start renovating a home, first and foremost, is that you must be very clear on exactly what you want for your home.
Jennifer: With our three boys and two dogs, we are very thankful to have settled down in this beautiful home. A very big 'thank you' to Kachee and Shayne from Quirky Haus for designing this beautiful house for us. I'm sure we are going to stay here for a very, very long time.
Charles: Thank you, Quirky Haus.
Repost from HomeRenoGuru